I've been watching Master Class and perhaps my favorite episode is courtesy Chris Voss. He was the FBI's lead hostage negotiator for years and his lessons are filled with clever tactics to get your point across whether one is negotiating for a raise, with their teenage daughter, or an international terrorist holding hostages. One of the tenets of his lessons involves controlling one's temper and toning down your voice into what he callas a "late night DJ voice." Although Master Class hasn't paid me a dime (yet) their programs are worth the money many times over.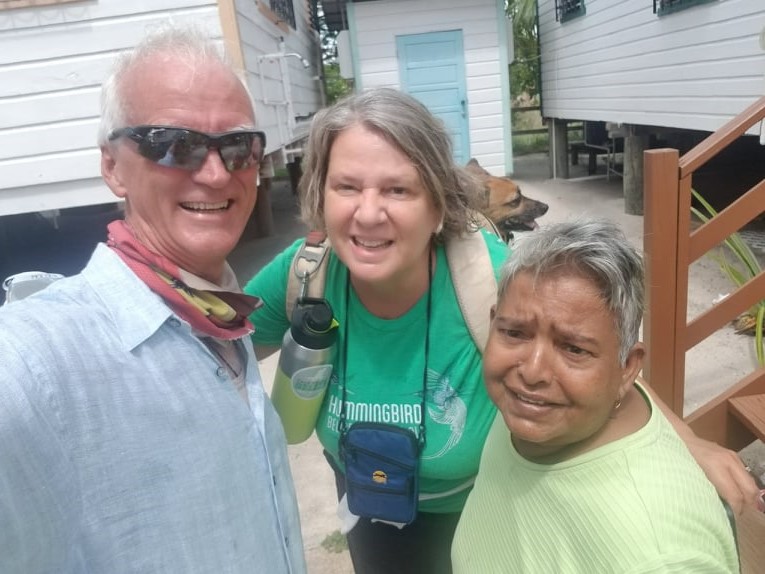 "Your dog is too big for the cabin and cannot fly."
"I'm sorry, but what did you just day?"
"I said your dog cannot get on the airplane. He's too big."
"He's the same dog American Airlines flew to Belize last winter. He's in the same carrier. Which fits under the seat. How can he be too big now?"
"Your dog will not fly on our plane."
"If we don't get him home now, he won't be allowed to leave Belize. And I will not let that happen so how are the three of us going to solve this problem?"
She didn't understand our situation. The American Airlines agents at Philip Goldson International airport in Belize City were trying to sentence Otis to death. She and her teammate did not see Otis as our beloved companion but rather a thorn in their side, an oversized piece of contraband that has no place in their airplane. She glared at me with contempt.
"This isn't my problem to solve. Next please."
Amy begged me to control myself and she wanted to sit down and brainstorm, but I was having none of it.
"We're frequent flyers with this miserable fucking airline and this is the same dog American flew here in November. Now we can have an international incident right here and now, or you can get us on this flight."
"Sir, do I need to call security?"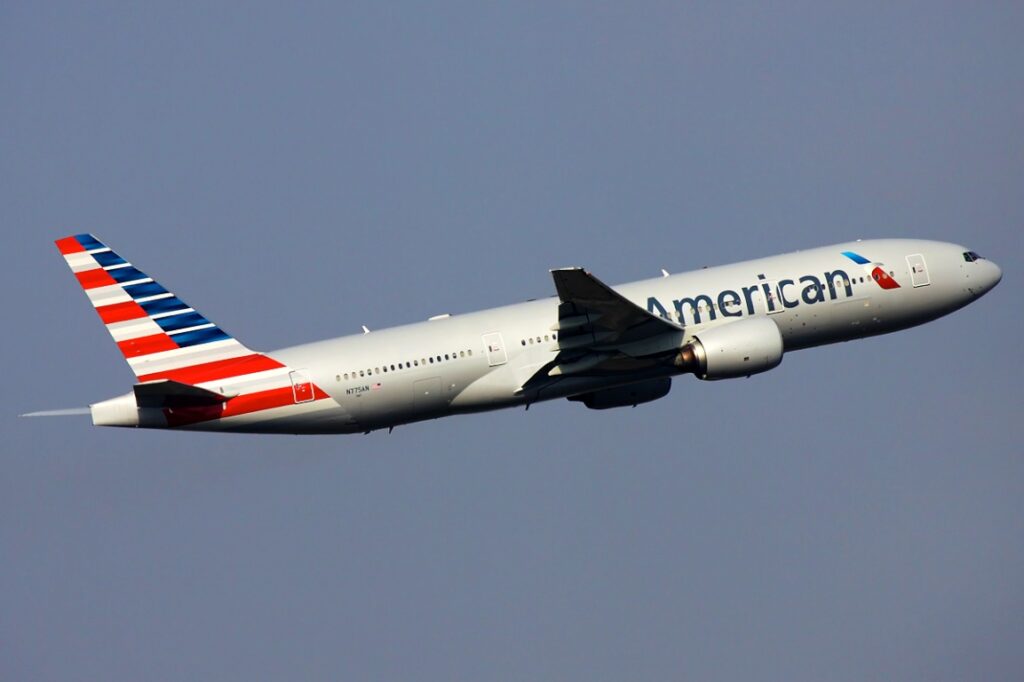 Amy yanked me away from the counter and we retired to a neutral seating area. Every beautiful moment, every wonderful person, every exquisite lesson I'd learned during our eight plus months in Belize was on the verge of being undone by an American Airlines agent and her intransigent desire to rule adherence. The rules for pets in airline cabins state the dog's carrier will fit under the seat in front of him, and the dog is able to stand up and turn around. Heck, a modern American airliner barely offers human beings the ability to do that so why should they care if my dog has to sit still for two hours? And since the CDC set that July 14 deadline did this airline not anticipate dog owners would be doing their best to get their four-legged companion home? Why be so stern now?
We still had several hours before our flight departed and as my anger waned, we agreed this was a fight we would win. There was no way we would just leave Otis behind. Amy called our embassy in Belmopan and of course they told her they couldn't do anything. Which was a lie, they could do something, they just didn't want to. If they did something for us, they might have to do something for the next American citizen. And our federal government is not here to help Americans in their time of need.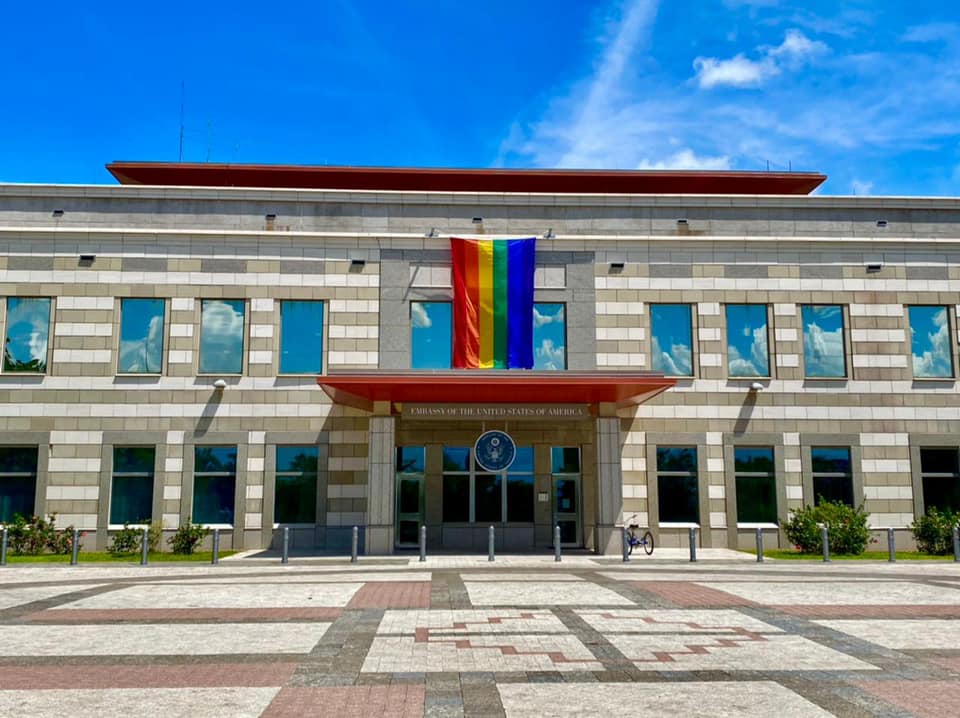 Amy then called Sally our vet while I went to all of American Airlines' social media platforms and asked for help. And of course, all of their replies came courtesy AI bots. Not that long ago my consulting company offered professional social media management. A real live human being was able to answer the communications of a small to medium sized company. Today, these massive corporations like AA are rapidly trying to dispense with as many human employees as possible. Enter Artificial Intelligence. When a comment or question or plea for help is sent through their social media platforms, the program scans the comments for key words such as "dog" and "flight" and responds with links to Our Regulations Concerning Pets in the Cabin. There's no room for subtlety or nuance because there's no human emotions involved. And if there's a couple with a beloved dog, an intransigent American Airlines agent, and a ticking clock on the other end of that comment…oh well. If you're lucky three days later you'll receive a request to complete a "How did we do poll" and thirty days later maybe five or six folks in the Customer Experiences department will get together virtually, read over their data, discuss their rather ominous results and decide to rewrite the responses of their AI bots to give them a more "human touch." Meanwhile, the ghost of George Orwell whispers in their ears "well done."
My apologies for the diversion and of course I got nowhere with emailing, calling, or social media-ing anyone at American Airlines. The clock was ticking down to our departure.
"Hello?" Amy had someone on the phone, an agent with American and she quickly described our predicament only to be met with more stubbornness on the other end. I could sense the words No and I'm So Sorry in the tears that stained her face. Shit. I walked Otis over to the United desk and asked for some understanding only to be met with inflexibility.
"He'll fit under the seat. What else can I say? He'll fit under the seat!"
"I'm sorry but we have rules, and our desk agents have the final say."
"How do you suggest I get him home?"
"Maybe in a cargo flight but we don't fly pets in cargo, and it's so hot right now and there's temperature limitations on the airlines that will fly pets in cargo. I'm sorry. I wish I could help."
And that was it. The Delta desk was empty as they didn't have any flights today. When I returned to Amy, she was being consoled by an airport security officer and the baggage handler that helped us into the airport. Amy hugged me then bent down and gave Otis a teary hug. He responded with his usual animated, tongue wagging smile. Good thing he didn't know his life hung in the balance. Nathan the security guard opened up with a suggestion.
"Miss Amy, I think you should go get a smaller soft bag, maybe a duffel bag for this dog and come back tomorrow, go to the Delta counter and see what they say. I think they would be reasonable."
We thanked him and checked Delta's schedule and they showed a 12:34 departure to Atlanta where I could grab a connecting flight to Phoenix. Delta's "pets in the cabin" section stated they do not fly pets as cargo unless the temperature at both arrival and departure are above 45 F and below 85 F. So much for that. At the same time, I suggested our plan B could be a flight to Cancun with Tropic Air. There was a host of airlines that served Cancun and perhaps one of them would be more compassionate to Otis's plight.
"I think I should leave with Pumpkin and get on this American Airlines flight. That way we're not buying two tickets and you can come tomorrow. That gives you time to look for a new bag for Otis."
"Fuck!"
"John please control yourself."
"Here's your bags."
I turned around to see the American Airlines agent dump our bags in the middle of the floor right in the high traffic area of an international airport.
"And please move them out of the way of the other passengers."
Our three bags that had been checked in now sat in front of us. And the anger, frustration, and disgust boiled up inside of me. I clinched my fists and cursed this godawful company, their government bailout, their CEO's massive salary, and their pathetic sense of hospitality. Amy hugged me and I hugged her back. She wiped her tears and told me I could do this. She had faith in me.
"I'll get Otis home. I'll stay here and figure this out. I need clothes, shaving kit, charger and my laptop."
We had to work fast. I made sure my one bag had everything I would need then turned to our friends. I shot video with me and Otis, narrated our challenge and asked my Facebook community if they had any answers. Then James the baggage handler approached us and asked if he could help. It's people like James that made us fall in love with Belize, he was very kind to us in our time of need. Amy asked him to take two of the bags back to the American counter and I headed for the Tropic Air counter. While in Belize we flew on almost a dozen Tropic Air flights and each one was a pleasure. Their counter agent was very sympathetic and their next flight to Cancun was 10:00 am tomorrow morning. He agreed that the regulations regarding pets was very restrictive and only allowed the smallest of dogs, "squirrel sized", to fly. Then he suggested I talk to Oscar at Aero Dispatch, the local cargo shipper, just a few steps down.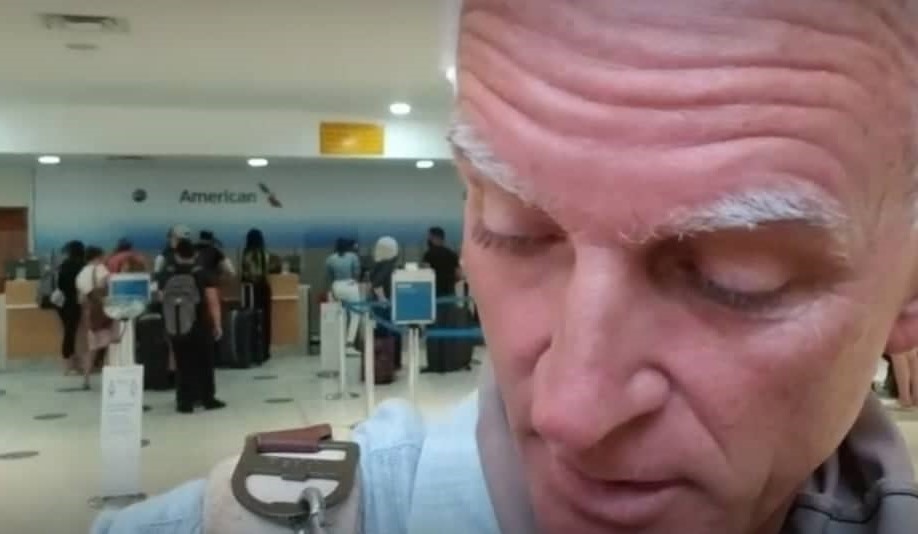 "Oscar, I'm John Malik and this is Otis and I have to get him home. What are my options?"
Oscar leaned over and admired Otis.
"Oh, he's a good-looking dog. Hey but listen, we provide cargo services for a couple of the airlines here and there's temperature limitations for pets at arrival and departure points. You see, cargo is treated differently and because of the heat we cannot let a dog sit in storage or on the ramp. And even if we weren't dealing with the heat, getting approval to fly a pet in cargo is a five-to-six-day process. And after the 14th Otis isn't going to get out of Belize."
"Shit, Oscar. You're not helping. Seriously do you have a wild idea?"
Oscar took a minute, removed his cap and scratched his head.
"You could fly to Cancun and drive him to the border. Uhhh… that's going to be a four or five-day trip though and there's some significant challenges in hiring or buying a car in Mexico, getting it insured, you know, you call it the red tape."
"I'm not armed either, Oscar. And I don't like the idea of driving across Mexico by myself."
"Neither do I. Man, I'm so sorry. I wish I had better news."
I thanked Oscar then headed back to Amy and gave her the bad news. She was checked in for her flight and had to get through immigration soon. Suggestions began coming in from our Facebook contacts and some were helpful. Amy received a text from some friends we'd met in San Pedro.
"Hey, hey! Remember Brandy and Justin from Montana? We met them in San Pedro. The four of them are in Cancun with their big dog and they're going airline to airline asking for help. She says Alaska Air is the only one showing compassion, but they need a health certificate from a local veterinarian. He's in a cab with the dog now and Brandy thinks they might spend the night in the airport, but she thinks they'll get into the US on Alaska."
"Shit. Well, that sounds like Plan B because tomorrow's Delta flight to Phoenix has a 12:30 departure and Tropic's flight to Cancun has a 10:00 am departure. And I think if Otis couldn't get out of Cancun, I'd be in Mexico and not Belize. We have friends in Belize. I think if all else failed I'd have a better shot finding someone to take Otis here in Belize and not at the Cancun airport."
The mere mention of leaving Otis behind brought fresh tears for Amy. She knelt down and hugged Otis and when that happened, I believe Otis felt our anguish and knew he was the cause. He sensed something was amiss in his universe and his eyes expressed worry and confusion.
"We can't let that happen, John. We have to get him home."
She stood up, hugged me again then picked up Pumpkin, secured her in the backpack and headed to the concourse. Otis followed, and I held him back. When his leash went taut, he turned to me with a look of concern.
"Let's go buddy. We have work to do."
Nathan, our friendly security guard, directed us to a taxi stand then asked me what our plan was. I told him we would find a hotel room, look for a smaller bag, and come back tomorrow hoping to get on the 12:30 Delta flight.
"I like this plan my friend. How about you, Otis? You need to be very charming tomorrow and those pretty girls gonna let you on that plane. Can you do that Otis?"
Nathan and I shared a laugh and I told him I hoped he was correct. Then we climbed into a cab and headed to the Best Western, about seven miles away. On the way I thought about how poorly I'd reacted to the American Airlines agent. I had quickly lost my temper, spouted off like an entitled spoiled American I pretended not to be, and that had gotten us exactly nowhere. Chris Voss would be extremely disappointed in me. Otis climbed into my lap as if to say I forgive you and I promised him we would solve this challenge. After checking into the Best Western, I introduced myself to Edmond, their front desk manager, and relayed my predicament with a hope that he would have a suggestion, or maybe know someone at Delta. We discussed the Cancun idea and driving across Mexico but both of those he believed to be flawed. He preferred the idea of buying a smaller bag and showing up at Delta tomorrow.
"What time is this flight?"
"12:30 pm."
"Will your Covid test be within the time limit?"
Shit. I fumbled through my camera bag, found my passport and vaccine papers, and damn near dropped my Nikon onto the hotel's floor.
"Jesus Christ in Heaven, my test expires at 11:30 am tomorrow."
"My friend if your flight is delayed that could be a problem."
He quickly got on his phone and left a message for the local testing service then gave me directions to two places, one a pet supply store, where I might find a suitable animal carrier. And it was almost 4:00 and they'd probably close at 5:00 pm. Me and Otis had some fast walking to do.
Belize City is my least favorite place in Belize. Its streets are a baffling mix of smooth concrete and unpaved rocky dirt roads, there's very few traffic lights, questionable law enforcement, and its sidewalks are strewn with humanity's detritus, broken bottles, to-go boxes, and construction debris. Modern steel and glass buildings stand shoulder to shoulder with working-class small to drug-lord enormous houses. And damn if we didn't strike out at both shops. Back at the hotel, Shermadine, the very kind woman that ran their gift shop, suggested I should try Brodie's, a department store. There I would find a wide selection of backpacks and duffel bags meant for students and it was also within walking distance. They closed at 5:00 pm so it would have to wait. Shermadine then rummaged through her collection of soft bags hoping to find something appropriate. She had an admirable collection of colorful Belizean beach bags and purses, but nothing to fit Otis.
"Brodie's opens at 8:00 am and they're less than ten minutes away. You could be there and back in thirty minutes."
She bent down and gave Otis some love.
"And if you have to give him away, I'd be happy to keep him."
Otis turned to me with a look of concern. Ever since we parted ways with Amy and Pumpkin his demeanor had turned melancholic. He hadn't smiled at me or anyone, only offered up sad Bambi eyes.
"Thank you Shermadine, and I believe tomorrow we will be headed home."
Before retiring to our room, I checked with the hotel to make sure I could get my test in the morning, then we had dinner in the hotel room while I caught up on the many suggestions that came our way through Facebook, email, and texts. Many were words of encouragement and several asked if we needed any money. I checked Alaska Airlines schedule from Cancun and for about a thousand bucks (gulp!) they could get us to Dallas or Houston. Brandy's latest message said they were finally confirmed into Denver, the kids and their dog with his one-hundred-dollar letter of good health from the vet in Cancun. And a friend of mine had good news, her dad was a Delta guy, and might be able to help. I thanked her and gave her all the details she requested then took a shower. As the water washed away the dust of Belize City, the possibility of failure hit me. Suppose I fail? What would I do with Otis? Suddenly I regretted my dumb fucking ideas of coming to Belize, of renting out our house to strangers, of giving away our chickens and turkeys, of bringing our dogs to Central America. This was all my fault and if I lost Otis, I'd never forgive myself. After the shower, I laid down on the bed and invited Otis up and through my tears I asked him for forgiveness.
"I'm sorry buddy but if everything goes south tomorrow you might have to stay here. You think you would be happy at the Gumbo Limbo? You sure enjoyed yourself there and Stephen would take good care of you. I'd better send him a note."
Ten minutes later he responded. "I would definitely take him for you, he would be loved. I hope things work out for you, but if not, we would take him for you.
All the best, Stephen."
In that moment I saw myself leaving the Gumbo Limbo. Stephen waved goodbye as I drove out of his parking lot. I glanced into the rear-view mirror and through the limestone dust I saw the pain in Otis's eyes as he strained against his leash and watched me drive away. Over the years Otis was often the first one I saw in the morning, and first to greet me when I got home. It didn't matter if I'd been gone for a week, or an hour. He knew my car, knew the sound of my tires on our gravel road. When I offered him a ride in the truck his eyes would blossom and he'd bolt, jump in and take up position in the passenger seat. He'd often join me in our back pasture on a workday, or alert me when a snake was in the barn, or a chicken had gotten out of our fence. Amy and I slept better knowing he was nearby, and that he loved us. I had to get him home, I owed it to him. I got down on my knees, closed my eyes and asked God for just a little bit of patience for tomorrow, and a little bit of kindness from the staff at Delta.
About 2:30 am my phone buzzed with a text from Amy. She and Pumpkin were finally in Phoenix and on the way to our friend Valerie's house. I rolled over, bumped into Otis and pulled him close. Eventually I gave up searching for more sleep, brewed a lousy cup of hotel coffee, looked for more suggestions from my friends, looked into Alaska Airlines flights from Cancun to the US, and read their pets in the cabin policy. Their site mentioned policy was dictated by the FAA (of course) so I searched through their site for some help then took Otis for a walk. At 5:30 am Belize City felt so far removed from the vibrant salt water of San Pedro, the soft sand of Placencia, the musical buzz of San Ignacio, or the lushness of San Felipe's rainforest. The trucks and busses were already rumbling through town and the ditch along the street reeked of human waste. We returned to the hotel and while he ate, I had coffee and returned to scanning my friend's suggestions. Amy had sent me a note with Psalm 34.
The righteous cry out, and the Lord hears them;
he delivers them from all their troubles.
The Lord is close to the brokenhearted
and saves those who are crushed in spirit.
I read it, took a deep breath, closed my eyes and envisioned me and Otis on the flight, door closing, airplane taxiing, rolling down the runway and feeling that thump of the wheels leaving the runway. Then I read Psalm 34 again and decided my spirit would not be crushed and I would succeed. I cannot lose my temper and expect to get Otis out of Belize. At 7:30 the Covid testing crew showed up and gave me a rapid test, and by 8:15 we were outside of Brodie's department store. I stood at the front door and caught the attention of Antonio, a security guard and told him my predicament and asked if I could tie up Otis outside.
"No worries, mahn, I hold him for you while you go find a couple of bags."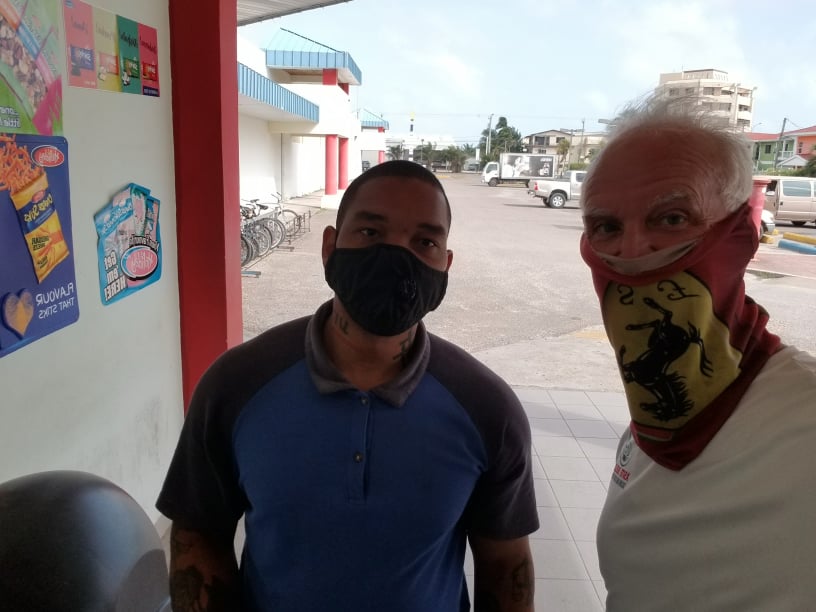 Antonio's response is one more reason why we love Belize. I brought two different bags outside, one a soft duffel bag and one more of a large backpack. Three members of Brodie's team helped me choose bags and two of them went outside with me where they gave Otis lots of attention. Antonio told me to put Otis inside each bag and offered to clean the bags of hair before they went back on the shelves. Damn I love this country. We all agreed the blue duffel was best, and after I paid the $32.00 US for the bag, five members of Brodie's met me at the exit and wished us good luck. I really love this country. We hustled back to the Best Western where Edmond told me my test results would arrive here by 9:30. I showered, brushed Otis, packed up my bag and sent Amy a couple of messages then we went to the hotel's lobby to wait. Edmond had already informed his driver that he may have to rush me to the airport then I checked Delta's site to make sure they still had seats on the 12:30 flight. They did, and it seemed pointless to buy a ticket until I knew I was getting on.
"Hello Mr. Malik. Have you made arrangements yet?"
It was Shermadine and she was all smiles. I placed the blue duffel on the floor, unzipped it, and Otis climbed in, sat up and smiled.
"Oh, Otis you are such a good boy, aren't you?"
She scratched his back and ears and reminded me that she would take him if Delta was uncooperative.
"Thank you Shermadine and I believe we will spend tonight on US soil."
Shermadine helped me kill some time by asking about our adventure and was especially intrigued by the work of Jorge Castellanos. I drew her a map and encouraged her to visit his studio. While she was looking at my photos of his carvings, a man in a red motorcycle helmet double timed into the lobby with a large legal-size envelope and offered it to Edmond.
"Mr. Malik! You're negative. Let's get you to the airport."
"Edmond are you certain?" I reached for the envelope and tore it open. Edmond laughed and told me if I was positive, four guys in white suits and masks would've shown up with a big net and corralled me into an unmarked van.
"You're correct again, Edmond." He sensed my anxiety and was offering me a smile.
"If you're ready, Alejandro will take you to the airport."
I shook his hand, thanked him profusely and told him if I'm not here for lunch we're on our way home. He bent down and told Otis to be a good boy if he wanted to get home and Otis surprised me by offering a single "Bark!" while Shermadine blew us a kiss as we headed to their van. By 10:30 we were at the Delta counter, and I wanted to find someone that looked like a decision maker and there were several choices. When my turn came, I ended up in front of a gentleman that wore a yellow safety vest, probably a cargo specialist and again went through my request. He eyeballed Otis and shook his head.
"Nope. He's too big."
Instead of anger, I found some restraint, read his name tag and told Jose that we had to get home and I desperately needed his and Delta's help and could he be today's hero. Jose exhaled loudly and asked me to step over to the corner and he would get his supervisor. We did as he asked then I set the blue duffel bag down and on cue, Otis sat down in the middle of that bag, laid down and made himself as inconspicuous as possible.
"Good boy, Otis."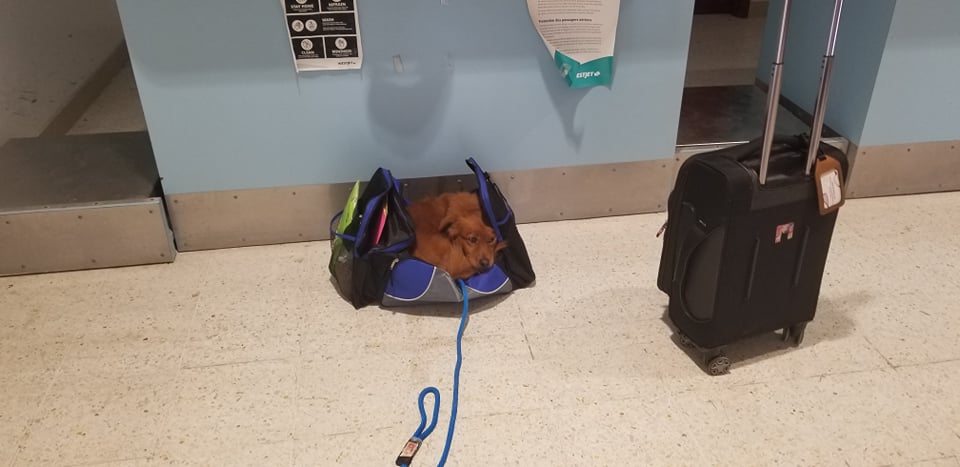 About five minutes later another gentleman showed up, this one wearing a front desk uniform and a "Henry" nametag. He looked over the counter and as he shook his head, I extended my arm, smiled, and introduced myself.
"Hi, I'm John Malik, I came to Belize to write a book on our yearlong adventure to Belize and only because of our government we are forced to leave early. And my dog Otis would really like to come home with us and not stay here in Belize. He's a good boy, too and flying bores him, he'll sleep all the way to Phoenix. How about it, Henry?"
"John I'd like to help but it's not my call, my decision could be overruled by the cabin crew and if that happens, I'm in trouble."
"Henry perhaps there's a flight attendant nearby that could weigh in?"
Henry looked at his watch and told me it would be another hour before a flight showed up and the crew wouldn't have time to come to his desk to decide whether a dog does or doesn't get on the flight. Which meant Henry could get me on the plane.
"Henry, I'll bet you haven't let them down before and surely they'd trust your decision?"
Henry paused for a minute then got on his walkie talkie and called another team member to the desk. A few minutes later two more Delta agents arrived, both women and one immediately rolled her eyes when she saw Otis. So I appealed to the other one, Margarite, and asked her if she'd like a photo with Otis because he's on Instagram and has several thousand followers, most of them Delta customers who would love to visit this gorgeous country. When she turned and whispered to Henry and Henry nodded ever so slightly, I could've cried. We were going home. We had to rush through the ticket process and the paperwork involved with Otis. Fortunately, I'd put all that inside my passport and by 11:40 I was standing in line at Customs and Immigration. My passport was stamped, we sailed through security and as I put my belt on and slipped into my shoes an intense sense of loss swept over me. Our adventure to Belize had come to an end, three months earlier than expected, and I wasn't ready to go. My first month here I was certain we'd screwed up and now, fully in love with the people, the many cultures, the simplicity, the charm, the history of Belize, I was about to fly home and who knows when we would return. Two Belize Immigration officers, a man and a woman, stood behind me and I turned to them.
"My friends I've been in your wonderful country since November and we have to leave now, and I just wanted to tell someone how much I'm going to miss Belize."
The lady sensed my emotions, offered me a hug and the three of us group-hugged right there in Philip Goldson International Airport.
"Oh mahn, you gonna come bahck and see us soon, you been here too long not to come bahck. You practically Belizean now."
"Yes sir, I believe you are correct. Thank you so much."
I picked up Otis and we took the short walk to Delta's gate. Even though the immigration agents were armed they readily offered me a hug. Again, I really love this country. Our flight to Atlanta was long and uneventful and when I woke from a short nap, the cabin crew had placed a postcard next to me.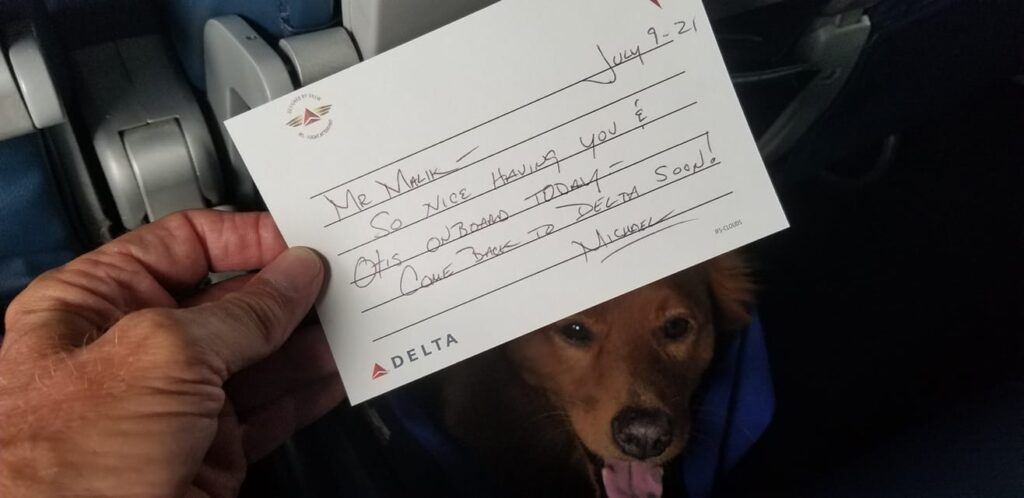 "Mr. Malik. So nice having you and Otis on board today. Come back to Delta soon!" Wow. Now that's hospitality. As we deplaned in Atlanta I thanked the crew and wished them a beautiful evening. Once inside Atlanta's massive airport, I realized neither of us had eaten since early this morning and it was now 6:00 pm. Oddly enough everything but McDonald's was closed in our concourse but I did have a bit of dog food which Otis gladly devoured while I downed a craft brew. By 8:30 we had boarded our flight to Phoenix and we sat next to Hannah, an over-the-road truck driver headed back to Phoenix. We chatted a bit before takeoff and again as we were preparing to land. Me and Otis slept in between. When the aircraft was entering the pattern for Phoenix, our pilot let us know we could have some turbulence on our way down. On final approach, me and Hannah were looking at the nearby storm as it flickered on and off like a mason jar full of fireflies, and I remarked that "someone's going to get rain." Hannah turned to me and shook her head.
"There's no rain in that storm. That's a dust storm and it's headed our way. Maybe we'll make it to our gate before the shit hits the fan."
"A dust storm? With all that lightning?"
"Yup. If Captain Delta here doesn't get a move on, we ain't going anywhere."
We taxied into what felt like the next county and just as Hannah predicted, we weren't going anywhere.
"Ladies and gentlemen from the flight deck this is your Captain. And uh, it looks like the ground crew has been evacuated and we're gonna have to ride out this storm for a bit and as soon as we get the all clear, we'll get you off the aircraft."
A minute later the big 767 was bathed in a dusty yellow light, then the blown sand arrived with a hurricane force wind. It felt like a zoo full of gorillas was bouncing on both wings while a herd of elephants tugged at our wheels. And it went on for 30 minutes. The lightning cracked while the wind and sand attacked our parked aircraft and through it all, Otis slept peacefully in his blue duffel bag. The cabin crew checked on us every ten minutes and they all remarked how well behaved Otis was. At 12:30 am, about 45 minutes after we landed, we exited the aircraft. After I grabbed my one bag, I made my way to the ramp where Amy and Pumpkin waited in Valerie's Mustang. Amy opened the trunk for me, gave me a big hug and a kiss and whispered "I knew you could do it."
~ John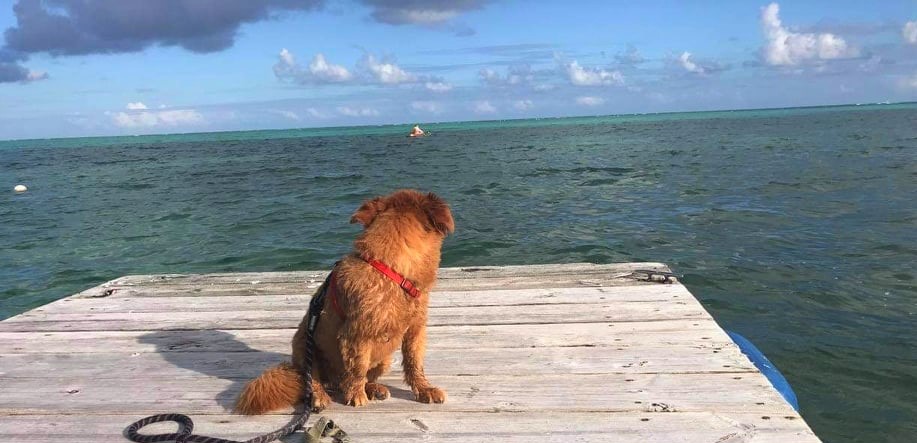 This is my final essay on Belize and the heavy lifting of turning my essays into a manuscript is in full swing. I've been working with an editor in the UK since January and she has been wonderful, and when my essays return from her and all that red ink scorches my hard work, it feels like I'm in 5th grade again and nothing I've done is worthy. However I have full confidence in Breana Dumbrell. Thank you so much for following along and as our farm in Greenville is rented out until September 30th, it's going to be a bit before we return to Tin Roof Farm. And should you want to take a trip to Belize, just drop either of us a note. Find Amy at [email protected]