I got out of the house early today because I knew the afternoon temps would be unbearable. And by 9:00 am I was in Traveler's Rest and headed for Paris Mountain.
The #SCRTR  will be a contest in endurance, man and woman against machine, with the machine being the bike. You've got to be able to climb on your bike and control it over a variety of terrain, roads, and weather. I'd love for this event to take place in mid May when the weather is nice and cool, but how many riders would we get and how much money would we raise? The reason we ride in summer is because, it's summer. The kids are out of school, schedules are more flexible, free time is easier to come by and people are more likely to travel. The #SCRTR is really a five day event because you've got a three day bike ride bordered by travel and recovery days on either bookend. No one will feel ready to take on the world the Monday after this event. And that's why we need to do this in summer. And it's going to be hot, just like last summer. Damnit.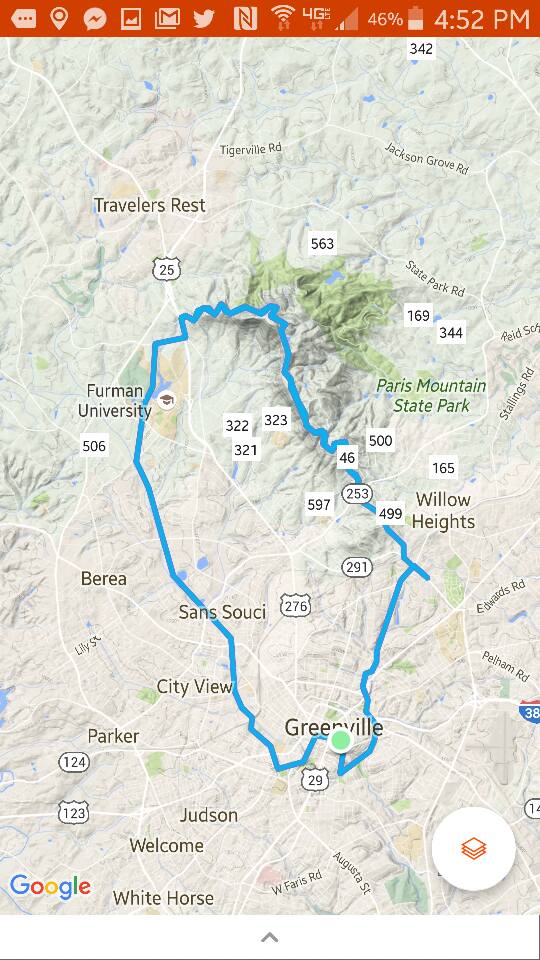 I don't want to be out in the heat all blessed day so that's where proper training comes in. And that's why I rode over Paris Mountain three times today. As I said in an earlier blog, sometimes it's all about the grunt. And I need to be able to know that I can push myself and my body will respond.
On a long distance event such as this, a cyclist's biggest fear is cramping. The medical jury is out on exactly what causes cramps but there's preventive measures one can take and number one is training. You've got to go out and push yourself, find your physical limit then a couple days later, go out and exceed your limits. Do this for three or four months and you'll be surprised at what you can accomplish. Day one starts at 8:30 am and it's the shortest day at 67 miles. Days two and three start at 7:00 am so my goal on those days is to start at the front, stop as little as possible, and get the work done by 12:30 or so before the day really heats up. Otherwise I'll bake in the sun and all that sweating and exertion will put me at risk of cramping.
So even though I only rode 35 miles, I got in almost 3,300 feet of climbing. And more importantly, I felt solid and strong, especially on my last trip over the mountain. I won't do that much climbing in the entire RTR so with six days before we depart, I think I'll be okay. I'll have a recovery day tomorrow, a hard ride on Sunday, an easy day on Monday then I'll hammer with my guys on Tuesday evening. Wednesday and Thursday will be very light days but I'll eat and hydrate like nobody's business.
Would you like to tag along with me across South Carolina? Then just make a donation to my efforts by clicking here.