Happy Fourth of July, 2021! We are celebrating here in Belize, but hope that you can appreciate some of our tastes to add to your day. It's not too late! You just need simple pantry ingredients such as olive oil, or your favorite vegetable oil, or our new favorite coconut oil 1 fresh egg, and some spices. You only need a total of two cups of oil at the most to make about 2 cups of mayonnaise. All of your ingredients should be at room temperature when your start. After the spread is done, label it and store it in the fridge for up to one week. It should be ready to use though as soon as it is chilled, within a couple of hours of making. This is a base flavor recipe I 've demonstrated, along with a saffron flavored addition. To make it your own, here are some examples of things you can add: pesto, mustard, dry or prepared, hot sauce or cayenne pepper, fruit such as cranberries or peaches or apricots – be creative! Let me know how yours turned out by tagging @tinrooffarm on Instagram in your post or comment below or on our YouTube video. We love comments and subscribers. Be the first to know when a new video is published. And another thing…why did I choose to publish on the Fourth of July? Well, I am participating in #plasticfreejuly for my birthday month. I am running a promo on my Instagram @tinrooffarm and Facebook Amy Stafford Malik, to help bring awareness to living plastic free. We've seen too much plastic washed up on the beaches. We've gained a lot of new habits such as carrying our own grocery bags to the store, riding our bikes or walking to the store, refusing straws with our drinks and picking up cords, webbing, plastic ribbons and flipflops, Removing these items off beaches prevents sea life from getting tangled. The reduction of plastic in our lives will allow us and our planet to live longer. The campaign brings awareness in July to the way we can change our habits to help be more sustainable. I hope that you will join me (consider it a birthday present to me) in the campaign on social media towards living #plasticfree. After all, isn't Independence Day – in any country – about being free? Make it a great one!
A quick recipe to perk up your Fourth of July celebration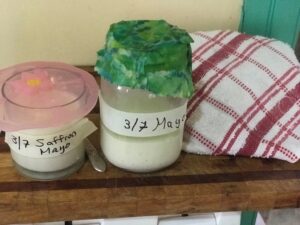 Whipping up this homemade mayonnaise provides fresh flavor and your guests will love it. Customize it to your flavor profile by adding your favorite ingredients such as saffron, hot sauce, cayenne, pesto, the list is endless.
Type: Condiment
Cuisine: American
Keywords: mayonnaise, quick, new flavor,
Recipe Yield: 2 cups
Calories: 95 per tablespoon
Preparation Time: 7 minutes
Cooking Time: not applicable
Total Time: 7 minutes
Recipe Video Name: Homemade Mayonnaise is quick
Recipe Video Description: We prepare a homemade product with local coconut oil and flavor it with vinegar, hot sauce and lime juice. You feel free to use your own flavors. This video demonstrates how it can be done in under seven minutes.
Recipe Ingredients:
One whole egg, the freshest you can find
2 cups max of coconut, olive, avocado, or your preferred vegetable oil
1 and 1/2 tablespoons of apple cider vinegar
1 and 1/2 tablespoons of lime or lemon juice
1/2 to 3/4 teaspoons of salt, (to your taste)
2 dashes hot sauce (your favorite) or a pinch of cayenne pepper
Recipe Instructions: Have all ingredients at room temperature before you start. You will need your countertop blender and a clean jar or two to store your mayonnaise. Add the egg and the acids (vinegar and juices) to the egg in the blender and blend for 30 seconds until pales in color. Slowly add your oils in a constant steady stream, stopping the blender occasionally and checking the viscosity or thickness of the mayonnaise. You may notice the sound change in the blender as it goes from a liquid to a clop, clop, mayo. It will still be a bit runny though. Adjust your flavor profile by adding hot sauce and salt, do a quick blend to incorporate and adjust again if necessary. Pour into your clean jar and label. If making two flavors, divide, add your flavor to the remaining in the blender and blend for a few seconds. Prepared, chilled, mayonnaise will keep for one week under refrigeration.