Did you know there are 20 varieties of mangos grown in Belize? We have a plethora of fruit literally falling from the trees here in May. Some of the fruit we see on the trees will not be ripe until August, so this will likely be one of many mango recipes. I saw a young boy pushing a wheelbarrow of mangoes down the street last week. "This is going to be fun," I said to myself.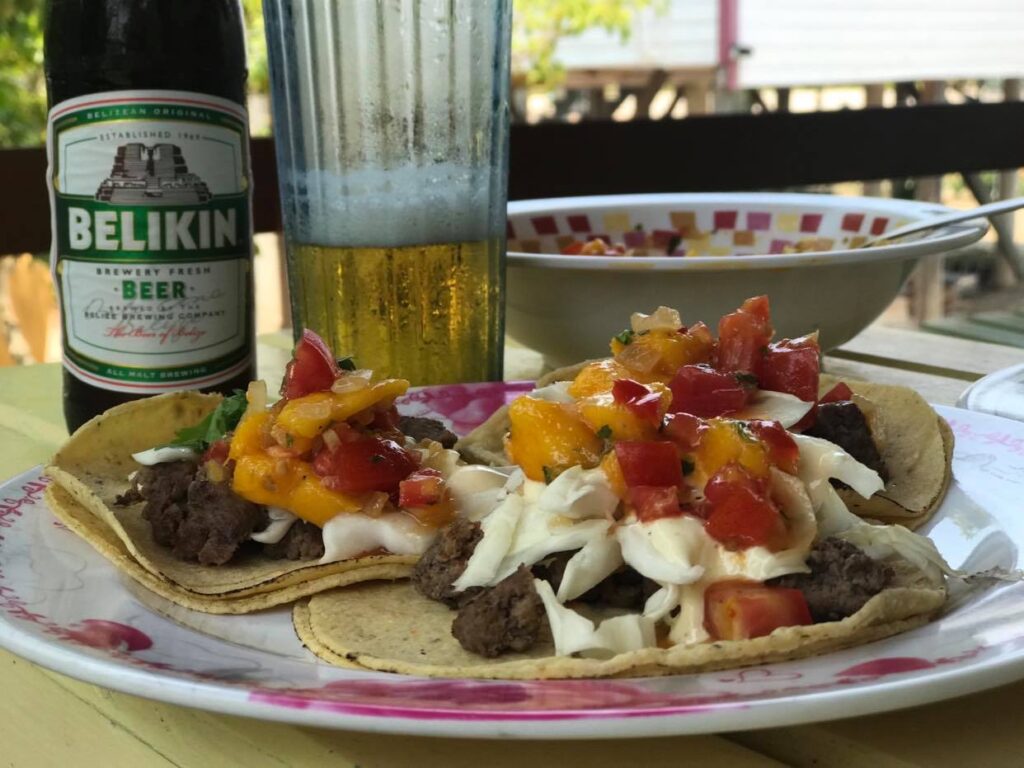 Salsa that is quick to assemble and good on tacos, fish or pork.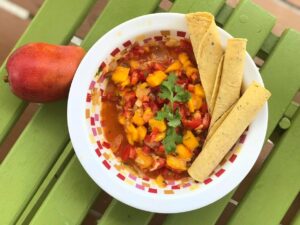 Fresh ingredients such as mangos, tomatoes, peppers and cilantro build the levels of flavor in this versatile salsa. It can be used over grilled fish, pork, or chicken or like a pico de gallo in tacos for that sweet and spicy twist. The trick to levels of flavor and not overwhelming raw vegetable taste is in sautéing the peppers, garlic and onions and adding them to the fresh tomatoes and mango.
Type: Side dish
Cuisine: South of the Border
Keywords: mango, salsa, spicy,
Recipe Yield: 2 cups
Calories: 60 calories per 1/2 cup
Preparation Time: 10 minutes
Cooking Time: 5 minutes
Total Time: 15 minutes
Recipe Video Name: How to dice a mango
Recipe Video Description: Mangos are slippery and tricky with that big pit in the middle. Here's how to make the most of that delicious flesh and create a great presentation for your dish.
Recipe Ingredients:
1 mango, ripe but not soft
3 -4 Roma tomatoes, ripe, chopped
Fresh cilantro, 2-3 sprigs chopped fine, (adjust to your cilantro tolerance)
2 limes, juiced
½ red bell pepper, diced small
¼- ½ habanero pepper, minced
2 cloves of garlic, minced
1 Tablespoon coconut oil or olive oil
3 dashes of hot sauce, to taste
1 Tablespoon habanero infused tequila (optional)
Salt & Pepper to taste
Recipe Instructions: Mix the chopped mango, tomatoes, cilantro, and lime juice together and set aside. Sauté the chopped onion, bell pepper, and garlic in a saucepan, quickly over medium heat for approximately 5-7 minutes. When the onions are translucent, pour this over the mango and tomato mixture. Finish with hot sauce, tequila and salt and pepper and gently toss. Adjust salt and pepper level and chill until ready to use. Best used on the same day, but may be stored in the fridge, covered, for up to 24 hours.